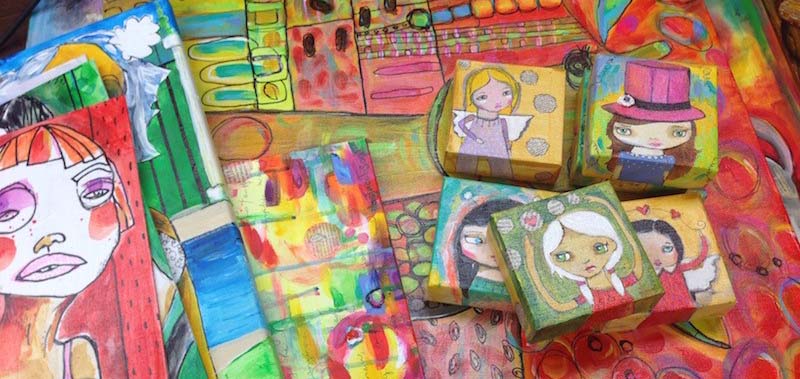 HOW IT WORKS:
I'd love to create something special for you. Whether you want something fun, colorful & whimsical or something more abstract and spiritual, I'll work with you to create your vision. The first thing to do is to contact me at rasjacobson@gmail.com.
We'll discuss size, price, colors and whether you would like your work on paper, wood or canvas. We'll also discuss shipping. I'll give you a final cost proposal that includes all of these items.
I require a 50% non-refundable deposit at the start of the project. Then, I start to create your piece of custom artwork.
I aim for 100% satisfaction. I want you to be happy and I'm open to your suggestions! As I move along in my process, I'll send you photographs. (Many photographs!) If you don't love something or have some feedback to provide, this is the time to have those conversations. When I think I'm finished, I'll show you the work for your final approval. Once approved, I'll seal your work to keep it from fading/yellowing. You can choose a matte or gloss finish.
You make the final payment for the painting ~ and I'll either package it up carefully and ship it to you or you can come and get it! Easy peasy lemon-squeezy!
SHIPPING:
Shipping costs are paid for by the customer, and I'll put the price into the final invoice. Tracking and insurance are also included in shipping cost. I'll wait for your payment to clear before I ship it off to you.
If you like a particular painting on my website & you think you might want something similar, let me know.