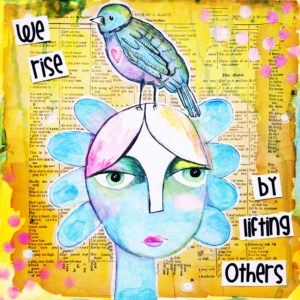 I loved teaching at Metairie Park Country Day School.
Especially in November.
By November, my students had finished reading the first novel of the year. They'd written their first five-paragraph essays and finished their first creative projects, (which were always amazing). By then, they had a pretty good understanding of my expectations, and I knew enough about their individual personalities to feel a wonderful kind of connectedness in the classroom.
CONFESSION: The other reason I loved November in New Orleans is a little more selfish.
Starting around Thanksgiving, MPCDS parents and students started leaving gifts for me on my desk.
Pies and brownies, cookies and baked hams. Gifts cards. Once, I even received a handmade sweater!
These shows of appreciation really mattered to me, especially since my salary was a little light on the green back in the day.
My fave gifts were always the ones that paired a little yummy somethin' along with somethin' that came from the heart.
When I became a parent myself, I remembered the generosity of my students and their parents. And while I was committed to giving my son's teachers great gifts, I often found myself scrambling to get something at the last minute… and not loving the gifts that I gave.
Sound familiar?
I have the perfect solution.
The teacher gift bundle.

Let me hook you up with SEVEN of my most popular 6×6 reproductions… paired with fabulous high quality chocolates, all carefully packaged. (I'll even include handwritten notes, if you tell me what you'd like me to write!)
And did I mention FREE SHIPPING?
All for $120.
Click here to place your order and take the stress out of holiday gift giving for the teachers in your life.
Order by November 30, 2016 to receive this offer.
You'll be glad you did.
XORASJ
Obviously, my 6×6 wall art can be given to anyone, not just teachers. They also make great gifts for mothers, sisters, wives & daughters! Collect them all!